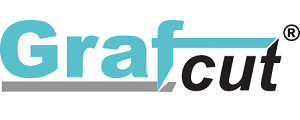 Grafcut LC280
LC is used for die cutting of different shapes of labels, booklets, cards, stickers, note pads, in mould labels and similar.
In standard equipped machine the material is pushed by hydraulic piston trough steel die (the die shape varies depending on final product shape). The machine is standard equipped with arms to position the die against the paper as well as with safety photocell barrier.
The curtain automatically starts the stroke of machine when operator positions the material and removes
hands from the machine.
The waste paper drop automatically to the bin and cut labels are pushed trough die to metal receiver. When having optional counterpress device the the material is placed in front of the die and when the ream is reaching the die edge it is counter pushed by pneumatic cylinder to prevent curling.
The finished product must be remove same position as it was loaded before cut. This reduces the maximum machine output.